Metair has been using lithium-ion technology in mining cap lamps for the South African mining industry since May 2013 and is producing a lithium-ion starter battery in Turkey. These products currently rely on lithium-ion solutions sourced from upstream suppliers that are adapted to customer specific systems and solutions by adding system design and controls. In 2017 Metair took several steps to advance our understanding, experience and expertise with lithium-ion technology.
Metair's investment in MOLL creates a relationship with Chaowei and provides scope for expansion across mobility technologies, including e-bikes, two-wheelers, three-wheelers, cars, trucks and electric vehicles. Chaowei currently produces around 300 000 lithium-ion cells a year for use in e-bikes.
In November 2017, we launched a programme to produce lithium-ion batteries across our operations in South Africa, Turkey and Romania that leverages local raw materials use and intellectual property. The programme partners Metair with universities and industry agencies for production and certification. In South Africa, Metair is partnering with the South African Institute for Advanced Materials Chemistry (SAIAMC), located at the University of the Western Cape (UWC), which is the only pilot scale lithium-ion battery cell assembly facility in Africa.
Metair's agreement with UWC will see the company invest R3 million over three years to pilot the prototype lithium production project from January 2018, improve equipment and sponsor one local post-doctoral fellow to be trained and work at Argonne National Laboratory in the USA. Production will focus on mining cap lamp cells, 12-volt lithium-ion automotive batteries, 48-volt lithium-ion batteries for energy storage applications and solar panel recharge.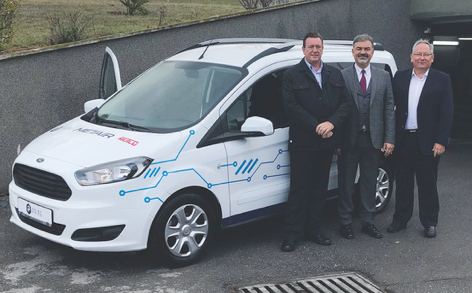 The local partnerships, such as the one with UWC, will provide the platform for Metair to validate its local solutions on a regular basis and stay at the forefront of technological advancements which will support automobile OEM requirements as the production of electric vehicles accelerates. Metair will also continue to use internationally recognised lithium-ion chemistry solutions and apply specific design and controls for customers.
In December, Metair announced the completion of conversion of a vehicle from internal combustion engine to full electric vehicle using in-house lithium-ion battery technology. Done in cooperation with PrimeMotors in Romania, this project aims to showcase our understanding and adaptation of disruptive technology.
In February 2018, Metair invested in a 35% stake in PrimeMotors, which will be Metair's incubator and research and development centre for lithium-ion battery development. PrimeMotors is also running an Artificial Intelligence (AI) project with the University of Bucharest to develop autonomous driving learning.